With the new year comes new milestones to reach. And if this year you'd want to go beyond the usual promises to focus on your health and wellness, read more, and finally achieve a grand dream like buying your first house, remember that preparation is key.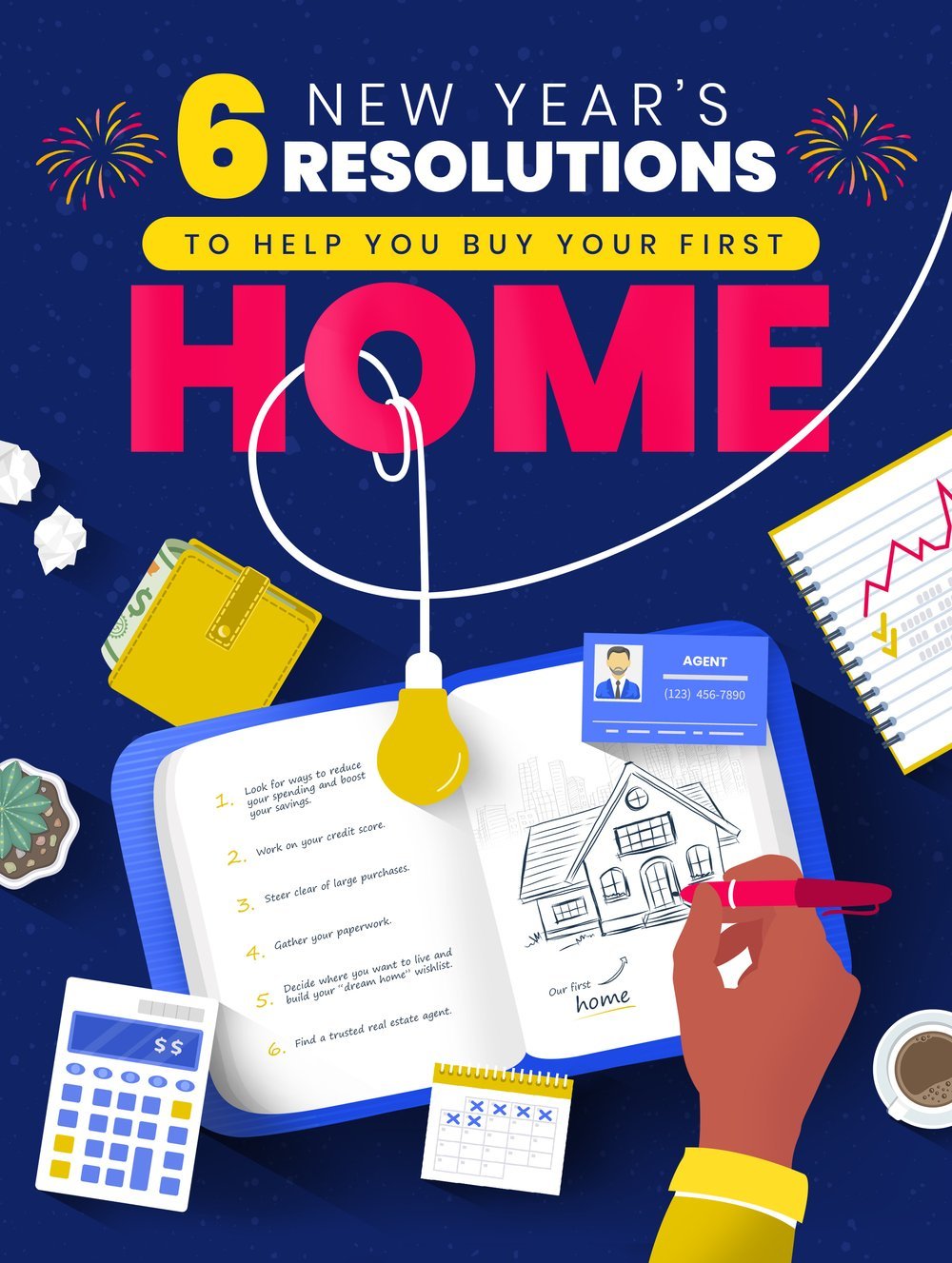 Here are six practical resolutions for you to consider so you can have a better chance of achieving your homeownership goals and finally have a place you can call your own.
There's no time like the present to start practicing good saving habits, especially if you plan to get a home loan this year. Start by getting a clear view of your expenses. Determine how much you spend on necessities, such as food, rent, utilities, transport, and other bills, including debts you're paying off. Once you have tracked your monthly spending, you'll know where you can cut costs and how you can boost your savings.
Saving as much money as you can also mean sacrificing some things that aren't essential to your daily lifestyle. This may include limiting your nights out at restaurants or bars, reviewing your current monthly subscriptions or memberships, removing your credit card from online shopping sites to cut down on impulse purchases, and other little expenditures that can add up to as much as thousands of dollars per year. While it may sound like a no-brainer, any money you can save is valuable for your home savings plan, especially if you want a better deal on your mortgage.
Another number you'll need to give attention to before you go house-hunting this year is your credit score. Credit scores range from 300 to 850. Your score is a significant factor that lenders use to determine a borrower's eligibility to buy a home. The better your credit score, the better your chances to qualify for more loan options and lower interest rates. And if applying for a conventional mortgage is what you're aiming for, you need to have a credit score of 620 or higher.
If this is something you still haven't given attention to, resolve to get a copy of your credit report at
annual credit report
to get an idea of your score. Remember that you are entitled to a free credit report every year from each of the three main credit bureaus: Experian, Equifax, and TransUnion. By pulling your credit report, you can review if any errors on it could be bringing your score down. If you find any, report them to the credit bureau to be investigated.
If needed, check out tips to improve your credit, such as making timely payments on your bills and not opening new credit accounts or closing current ones. It takes months to improve your credit, so make sure you have a game plan to feel at ease going into the home-buying experience.
If you're looking to buy a home for the first time, avoid making large purchases, such as a new car, jewelry, furniture, or any other big-ticket yet non-essential items. While buying these things aren't necessarily bad, doing so even before your home-buying journey begins can affect your credit score. In addition, using up cash reserves can impact your ability to qualify for a loan. Save those purchases for a date after closing to ensure there will not be any unexpected hiccups during the process.

You will need all your financial documents to apply for a mortgage, and this new year is the perfect time to have all your important papers ready. Create a comprehensive list of what you should collect and organize, and have them handy. Among these are pay stubs, tax returns, income statements, bank statements, check stubs, credit card statements, and other paperwork.
While preparing financially for your home-buying journey is laborious, deciding where you want to put down roots and what home you specifically want to buy can also be challenging (but fun!) You may have to be very specific about your goals, so resolve to determine what you're looking for and be realistic about it.
Research the areas you are looking at buying in to understand the type of properties available, as well as the price range. If you've found out that you currently live in a high-priced market, is relocating a possibility? If it isn't, can you bear the longer commute just to become a homeowner? You'd also want to see what neighborhoods fit your lifestyle by visiting during different times of the day to see what it's like to live there. Walk around, visit stores or restaurants, and feel the general vibe of the place.
Moreover, create a list of must-haves and would-be-nice-to-haves for your dream house. How many bedrooms and bathrooms do you want to have? Is having a backyard a massive factor for you? Knowing where you can compromise and what might be a deal-breaker will be significant once you begin your search in earnest. Also, having a specific goal in mind will make it easier for you to achieve it.
As soon as you've decided that you want to buy your first home, resolve to find a good real estate agent that will be very valuable in achieving your goal. Purchasing a home is most likely the biggest investment you will ever make, so it is crucial to have a trusted agent who will educate you and guide you through the whole process.
Your agent can also help you build your homeownership dream team. You may check their recommendations on real estate attorneys, mortgage professionals, and home inspectors. Choosing your agent wisely can help alleviate some of the stress that comes with the complex and sometimes stressful real estate transaction.